The Effect of Different Doses of Botulinum Toxin on Masseter Muscle in Patients with Bruxism.
Keywords:
Bruxism, Botulinum Toxin, Masseter muscle, VAS, Bite force
Abstract
Background and Objectives: Botulinum toxin type A is produced by clostridium botulinum. It acts by inhibiting the release of acetylcholine from cholinergic neurons. Botulinum toxin has been used for management of bruxism, which is a parafunctional disorder and characterized by clenching or grinding of the teeth or both. This study aimed to find out the effect of two different doses of injecting botulinum neurotoxin in masseter muscle in a patient with bruxism.
Materials and Methods: A prospective clinical open trial study was conducted from November 2018 to November 2019. Thirty patients, aged 20-45 years, with bruxism were subjected to injection of two different doses of botulinum toxin in masseter muscle. Patients were divided into two equal groups. The first group included 15 patients treated
by 18 units of botulinum toxin, 9 units for each side and the second group included 15 patients treated by 24 units of botulinum toxin 12 unit for each side. Parameters, as visual analogue scale (VAS), Bite force, patient's evaluation of lower facial slimming were recorded for each patient before and after the injections of botulinum neurotoxin at 2
weeks, 4 weeks and 3 months.
Results: The study showed a significant reduction in VAS, bite force and patient's evaluation of facial slimming for both groups after 2 weeks, 4 weeks and 3 months of follow up (P < 0.05) with no significant differences in both group doses.
Conclusion: Both doses of botulinum toxin (18 and 24) units have significantly improved pain score, and bite force and have the same efficacy in treating patients with bruxism, therefore dose of 18 units of the drug is preferable over 24 units in treating bruxism.
References
Al‐Wayli H. Treatment of chronic pain associated with nocturnal bruxism with botulinum toxin. A prospective and randomized clinical study. J Clin Exp Dent. 2017 Jan 1;9(1):e112–7.
Shetty S, Pitti V, Satish Babu CL, Surendra Kumar GP, Deepthi BC. Bruxism: A Literature Review. J Indian Prosthodont Soc. 2010 Sep;10(3):141–8.
Tan EK, Jankovic J. Treating severe bruxism with botulinum toxin. J Am Dent Assoc 1939. 2000 Feb;131(2):211–6.
De Laat A, Macaluso GM. Sleep bruxism as a motor disorder. Mov Disord Off J Mov Disord Soc. 2002;17 Suppl 2:S67‐69.
Yap AU, Chua AP. Sleep bruxism: Current knowl‐ edge and contemporary management. J Conserv Dent JCD. 2016 Oct;19(5):383–9.
Manfredini D, Landi N, Fantoni F, Segù M, Bosco M. Anxiety symptoms in clinically diagnosed bruxers. J Oral Rehabil. 2005 Aug;32(8):584–8.
Veiga N, Ângelo T, Ribeiro OA, Baptista A. International Journal of Dentistry and Oral Health Bruxism – Literature review. 2015 Sep 4;
Lavigne GJ, Khoury S, Abe S, Yamaguchi T, Raphael K. Bruxism physiology and pathology: an overview for clinicians. J Oral Rehabil. 2008 Jul;35(7):476–94.
Macedo CR, Macedo EC, Torloni MR, Silva AB, Prado GF. Pharmacotherapy for sleep bruxism. Cochrane Database Syst Rev. 2014 Oct 23; (10):CD005578.
Kim S, Park K jeong, Shim Y joo, Kim ST. Botulinum Toxin Injection for Managing Sleep Bruxism. Sleep Med Res. 2018 Dec 30;9(2):73–6.
Goddard G, Karibe H, McNeill C. Reproducibility of visual analog scale (VAS) pain scores to mechanical pressure. Cranio J Craniomandib Pract. 2004 Jul;22(3):250–6.
Ohira A, Ono Y, Yano N, Takagi Y. The effect of chewing exercise in preschool children on maximum bite force and masticatory performance. Int J Paediatr Dent. 2012 Mar;22(2):146–53.
Calderon P dos S, Kogawa EM, Lauris JRP, Conti PCR. THE INFLUENCE OF GENDER AND BRUXISM ON THE HUMAN MAXIMUM BITE FORCE. J Appl Oral Sci. 2006 Dec;14(6):448–53.
Klein FH de M de S, Brenner FM, Sato MS, Robert FMBR, Helmer KA. Lower facial remodeling with botulinum toxin type A for the treatment of masseter hypertrophy. An Bras Dermatol. 2014;89(6):878–84.
Klein AW. Dilution and storage of botulinum toxin. Dermatol Surg Off Publ Am Soc Dermatol Surg Al. 1998 Nov;24(11):1179–80.
Peng H‐LP, Peng J‐H. Complications of botulinum toxin injection for masseter hypertrophy: Incidence rate from 2036 treatments and summary of causes and preventions. J Cosmet Dermatol. 2018 Feb;17(1):33–8.
Hwang W‐S, Hur M‐S, Hu K‐S, Song W‐C, Koh K‐S, Baik H‐S, et al. Surface Anatomy of the Lip Elevator Muscles for the Treatment of Gummy Smile Using Botulinum Toxin. Angle Orthod. 2009 Jan;79(1):70–7.
Asutay F, Atalay Y, Asutay H, Acar AH. The Evaluation of the Clinical Effects of Botulinum Toxin on Nocturnal Bruxism. Pain Res Manag [Internet]. 2017 [cited 2018 Oct 6];2017.
Lang A. A preliminary comparison of the efficacy and tolerability of botulinum toxin serotypes A and B in the treatment of myofascial pain syndrome: A retrospective, open‐label chart review. Clin Ther. 2003 Aug 1;25:2268–78.
Asutay F, Atalay Y, Acar AH, Asutay H. The Evaluation of the Clinical Effects of Botulinum Toxin on Nocturnal Bruxism. Pain Res Manag. 2017 Aug 1;2017.
Khaziev E, Samigullin D, Zhilyakov N, Fatikhov N, Bukharaeva E, Verkhratsky A, et al. Acetylcholine‐Induced Inhibition of Presynaptic Calcium Signals and Transmitter Release in the Frog Neuromuscular Junction. Front Physiol
Song JH, Cho ES, Kim ST, Ahn HJ. Change of Distribution and Timing of Bite Force after Botulinum Toxin Type A Injection Evaluated by a Computerized Occlusion Analysis System. Yonsei Med J. 2014 Jul 1;55(4):1123–9.
Nishigawa K, Bando E, Nakano M. Quantitative study of bite force during sleep associated bruxism. J Oral Rehabil. 2001 May;28(5):485–91.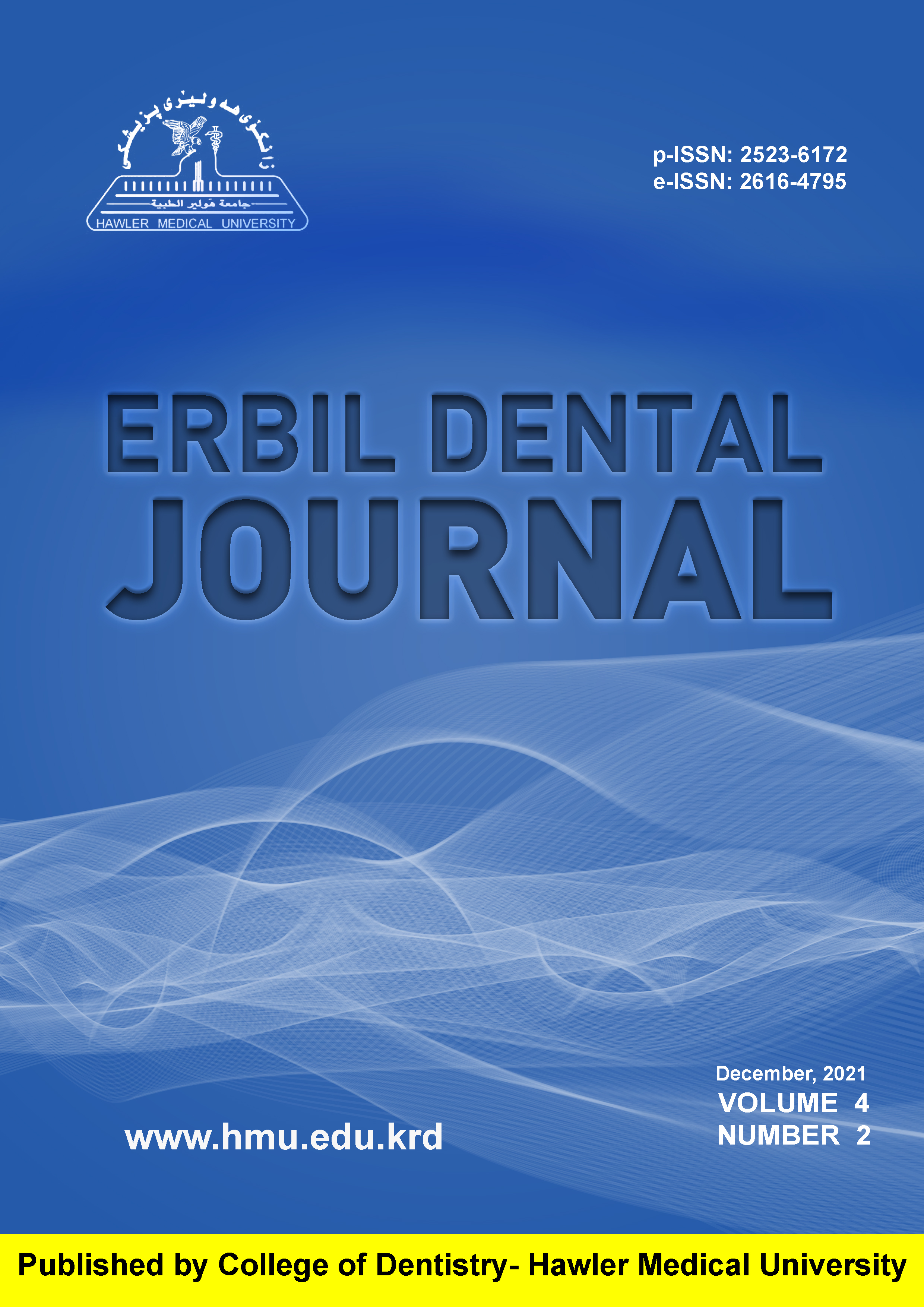 Downloads
How to Cite
1.
Dizaye KF, Jalal SJ. The Effect of Different Doses of Botulinum Toxin on Masseter Muscle in Patients with Bruxism. EDJ [Internet]. 2022 Feb. 11 [cited 2023 Jun. 4];4(2):182-9. Available from: https://edj.hmu.edu.krd/index.php/journal/article/view/139
Section
Original Articles
License
Copyright (c) 2021 Kawa F. Dizaye, Sarezh Jamal Jalal (Author)
This work is licensed under a Creative Commons Attribution-NonCommercial-ShareAlike 4.0 International License.
The copyright on any article published in Erbil Dental Journal is retained by the author(s) in agreement with the Creative Commons Attribution Non-Commercial ShareAlike License (CC BY-NC-SA 4.0).